Join the Portland Ghostbusters for Salem's fastest growing music and resource festival! Punx in the Park, put on by Punx with Purpose, will have everything that you need to have a good time.
Marion Square Skateboard Park
Salem, OR
Come see the legendary Ecto-1S and the Portland Ghostbusters HQ (featuring an operational Ecto Containment Unit) at Portland's premier pop culture event. Three days of fun and excitement!
Oregon Convention Center

Color The Coast For Autism Acceptance
Join the Portland Ghostbusters for a family-friendly, Autism-friendly event celebrating Autistic people and the Autism community, with proceeds to benefit ASO's programs in Lane, Lincoln, Douglas, and Coos counties!
Miller Park in Florence, Oregon
10 am – 1 pm
Come see the Portland Ghostbusters and Ecto-1S at this awesome parade kicking off the Halloween season.
Columbia Blvd. Saint Helens, Oregon
6:30 pm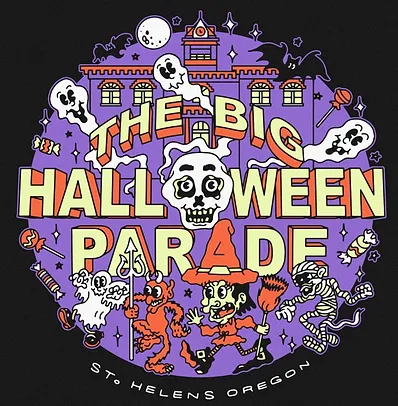 Members of the Portland Ghostbusters will appear at these Spirit Halloween locations to help raise money for Doerenbecher Children's Hospital, delivering hope and healing to families throughout Oregon and Southwest Washington.
Spirit Halloween Keizer Station
6180 Ulali Dr, Keizer, OR
October 8, 2023
1pm – 3pm
Spirit Halloween Gresham Station
1090 NW Norman Ave, Gresham, OR
October 15, 2023
1pm – 3pm
Spirit Halloween Vancouver Plaza
7809 NE Vancouver Plaza Dr, Vancouver, WA
October 22, 2023
1pm – 3pm
Spirit Halloween Cedar Hills Crossing
3485 SW Cedar Hills Blvd, Beaverton, OR
October 28, 2023
1pm – 3pm
Spirit Halloween Plaza 205
10548 SE Washington St, Portland, OR
October 29, 2023
1pm – 3pm
Come make slime with the Portland Ghostbusters at this family-friendly event. Walk through Mary S. Young Park and witness fun and spooky jack-o-lanterns come alive! Over 200 lit pumpkins carved by local West Linn citizens will be on display. This is not a haunted house/forest, nothing jumps out to scare and festive characters are not gory.
Mary S. Young Park
19900 Willamette Drive
West Linn, OR
6:30-8:30pm
Ghosts, goblins, and whiskey, oh my! Get in the spirit and celebrate Halloween with the Portland Ghostbusters. OMSI After Dark is for the 21-and-over only crowd, where you can drink beer or wine and roam the museum with no kids around. We have science demos, performances, DJ's, artisan food and beverage vendors and more.
1945 SE Water Ave Portland, OR
6-10pm